Welcome to Blackmoor Bar and Kitchen in Charlestown, MA
We are a casual neighborhood place featuring 34 rotating draughts, elite bottled beers, cask ale, draught wine, craft spirits and custom cocktails. Our innovative menu is sure to please with an eclectic mix of traditional tavern favorites, burgers, sandwiches and flat bread pizzas. Blackmoor is the perfect place to get a bite and beer before the game or show at the TD Garden, or just relax with a pint and watch the sun set over the Zakim Bridge. We are located right along the Freedom Trail and welcome you to our cozy home.
10 for $10 Lunch Menu
Monday – Friday
Check our 10 for $10 menu for more details
11:30am-3pm
Blackmoor Bar + Kitchen is great for
groups and private events. We have an amazing view of the Zakim Bridge from our private event space. The room also includes its on TV which makes it great for business meetings, alumni groups, and sports events.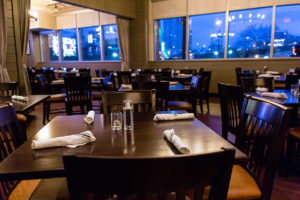 Take a Virtual Tour! The possibilities are endless!