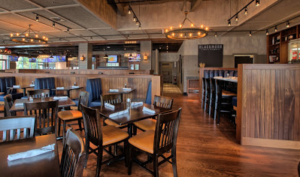 For the best burgers Charlestown offers, come to Blackmoor Bar and Kitchen for lunch and dinner. We also serve a delectable brunch on weekends. Our new establishment will quickly turn into your go-to place for watching ballgames, catching up with friends, and enjoying casual, upscale meals. With 34 rotating draughts in addition to bottled beers, cask ale, craft spirits, draught wine, and expertly mixed cocktails, you can try something new every time you stop by. Sign up for our newsletter for the latest news, offerings, and specials.
What Goes into the Best Burgers Charlestown?
At our casual neighborhood eatery, only premium ingredients go into the best burgers in Charlestown. From the moment you bite into one of our juicy burgers, you'll understand why many of our repeat customers order a burger every time they visit. From the type of bread to the texture of the hand crafted Angus beef or vegetarian burgers, the burgers we serve at the Blackmoor Bar and Kitchen leave you full and satisfied.
The next time you're craving a burger consider some of our menu favorites:
The Blackmoor. The house burger marries several flavors and textures for the perfect bite from start to finish. Featuring griddled Stilton cheese, sweet grilled red onion, English bacon, and a perfectly fried egg on an English muffin, this burger is great for brunch, lunch, or dinner. As one of the best burgers in Charlestown, we serve several of these house specialties every day.
The Lonestar. Find a little southern flair in your meal with this classic burger. Served with fresh house-made chili, shaved onions, spicy pepper jack cheese, and a sweet and tangy BBQ sauce on a brioche bun, the Lonestar offers a burst of flavor in every bite.
The Paddy Melt. Discover the luck of the Irish in this unique twist on a classic burger. Constructed with lean chargrilled sirloin, griddled onions, Irish bacon, roasted tomatoes, and sharp Kerrygold cheddar on marbled rye, this savory burger delivers a taste of the old world.
The menu for the best burgers in Charlestown wouldn't be complete without a classic American burger, a blue cheese stuffed burger, and a veggie-filled vegetarian burger. Customize each burger with your choice of lettuce, tomato, onion, and/or house made pickles at no additional charge. Whatever you fancy, you'll find something you love served daily on our reasonably priced burger menu. Every burger comes with fries, coleslaw, a house salad, or a German potato salad side. Ask your server for a draught or bottled beer recommendation to pair with your burger for an upscale foodie experience in a casual neighborhood bar environment. Read more about our burgers.
Best Burgers Charlestown and More
If the best burgers in Charlestown don't pique your interest, the Blackmoor Bar and Kitchen offers a diverse menu filled with options for even the most discerning palates. From our basket of beignets for brunch or dessert to our succulent and savory mussel pots, you'll want to try something from every category.
Many of our customers stop by after work or for cocktails on the weekends. At odd hours when you don't have room for the best burgers in Charlestown, our appetizer menu may offer the right type of nibble for your group. Munch on some house made pretzels with just the right bite and a rich mustard cheese dipping sauce or mix and match each bite with our Blackmoor Ploughman's Board. Customize Tina's Nachos with your choice of chicken, chili, or pulled pork and try the lamb poutine for some comfort food after a few drinks.
From traditional bar fare to unique offerings you'll only find at Blackmoor Bar and Kitchen, we take pride in the selection of food and beverages – you'll enjoy coming back time and again. On our drink menu, explore our history themed artisan cocktails, a wide selection of perfectly chilled draughts, and more. From freshly made mimosas and Bloody Mary's on the weekend to locally crafted spirts, we look forward to delivering a memorable dining and drinking experience as your go-to restaurant for the best burgers Charlestown offers.
Sports and the Best Burgers Charlestown
Blackmoor Bar and Kitchen sits near Freedom Trail and TD Garden. Stop in on a weekend walk or before an event to grab one of our best burgers. Charlestown residents know they can count on our televisions to feature a wide selection of sports content. We show every local sports game and US National Team games on our many televisions throughout the bar. The restaurant subscribes to television package favorites including the ESPN College Football Package, NFL Sunday Ticket, Big Ten Network, FOX Soccer Channel, MLB Network, and many more.
If we're not showing a game you want to see while you enjoy the best burgers in Charlestown, let us know. We strive to show the games our customers want to watch during their time here. Our private event space also includes a large, flat screen television for your viewing preference. Consider our restaurant as a catered event space for anniversaries, work events, and birthday celebrations. Before live events and every major game, head over to the Blackmoor Bar and Kitchen for great service, food, and beverages. We look forward to seeing you here!
Stop By for the Best Burgers Charlestown
At the Blackmoor Bar and Kitchen, we welcome people of all ages. Bring your friends, family, and coworkers to enjoy a drink, watch a game, and share some great food. From 11:30 a.m. to 1 a.m. on weekdays and 10 a.m. to 1 a.m. on weekends, we keep our doors wide open. Pop in for a refreshing drink on a hot day or to warm up during winter. Parking is free after 6p.m., and we validate parking at the Constitution Marina after 5 p.m. on weekdays and all day on weekends. Write a review for us if you've experienced the great things we have to offer.
Remember the Blackmoor Bar and Kitchen the next time you head out for a drink or a bite to eat around the TD Garden area. For more information about the town's best burgers, Charlestown diners can reach the Blackmoor Bar and Kitchen at (617) 580-8166.