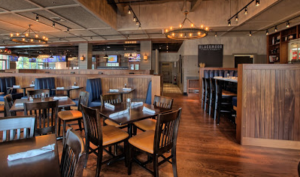 Your search for the best sports bar near TD Garden is over. Blackmoor Bar and Kitchen offers everything you need for a great time. We're located near the Zakim Bridge, TD Garden, and the Freedom Trail, putting our restaurant in a great location for weekday and weekend visits. Whether you're headed to a concert or a game at the arena, you'll love the casual and inviting atmosphere at our neighborhood establishment. With reasonably priced tavern fare and an extensive beer, wine, and spirits collection, you'll enjoy stopping by before and after local events.
Best Sports Bar Near TD Garden with TVs
As the best sports bar near TD Garden, Blackmoor Bar and Kitchen features several televisions throughout the establishment. Whether you sit at the bar or in our comfortable dining room, you'll see a great view of the game from the nearest television. Our management team maintains subscriptions to the most-watched sports packages on air. If you're interested in football, hockey, soccer, or basketball, we'll tune into the most popular games on at the time. Check out our sports packages.
You can't watch a game without some great-tasting food that pairs well with your favorite alcoholic beverages. Locals come to the best sports bar near TD Garden for traditional pub fare such as fish 'n' chips, juicy burgers cooked to order, shareable flatbread pizzas, and New England mussel pots featuring succulent shellfish. Our extensive menu features new specials and old favorites you'll want to order every time you watch a game. Bring your entire family over to enjoy great food, company, and game day spirit.
Quench Your Thirst at the Best Sports Bar Near TD Garden
Blackmoor Bar and Kitchen prides itself on offering a rotating selection of 34 draught beers in addition to hand-selected bottled beers, cask ales, wines, and handcrafted cocktails. A mixologist oversees our bar menu and ensures every drink comes out to your specifications. From a classic old-fashioned to our history-themed cocktail selection, we offer a full bar experience you won't find anywhere except the best sports bar near TD Garden.
With free parking everywhere after 6 p.m. and several areas to choose from, add Blackmoor Bar and Kitchen to your list of stops while you're parked in the area. If you park in the Constitution Marina lot, we validate for parking after 5 p.m. on weekdays and all day on Saturdays and Sundays. For the latest news, pictures, and information about our restaurant, like us on Facebook. If you've visited us before, leave a review!
Plan Your Next Event at the Best Sports Bar Near TD Garden
After you visit, we know you'll want to recommend the best sports bar near TD Garden to all your friends. Keep our friendly neighborhood establishment in mind when you plan your next office party, anniversary, or holiday get-together. With a private event space featuring a large television, our event managers will help you choose the right menu and drink setup for small, medium, and large gatherings. To get in touch with the best sports bar near TD Garden, call (617) 580-8166 or stop by any after 11:30 a.m. Monday – Friday and after 10 a.m. on Saturdays and Sundays.