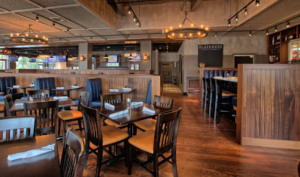 At Blackmoor Bar and Kitchen, we pride ourselves on maintaining a kid-friendly restaurant. Charlestown diners know they can drop in with friends, coworkers, or family and receive high-quality service and great food. Bring your family in after school, sports practice, and on weekends to watch the latest game, order some root beer, and enjoy some mac and cheese. With something for the entire family, add the Blackmoor Bar and Kitchen to your list of kid-friendly restaurants in the Boston area.
Kid-friendly Restaurant Charlestown for Everyday Meals
While our establishment doesn't offer the entertainment of a kids-specific restaurant, we offer a compromise between pizza and adults-only restaurants. As a sports bar, televisions continually play in our bar and dining room, so you won't generally need to worry about kids making too much noise for our other guests. We offer high chairs for young children and kid-friendly menu options to make meal selections easy. If you're searching for a kid-friendly restaurant in Charlestown that offers something more for the adults, try Blackmoor Bar and Kitchen.
The family-friendly atmosphere along the Freedom Trail and near TD Garden offers a stop where you can sit down, relax, and have a drink or snack before traveling elsewhere. Whether you're visiting town for vacation or you're looking for a friendly neighborhood place to come to regularly, consider our place on Chelsea Street as your first choice. Our kid-friendly restaurant in Charlestown works hard to keep both children and adult customers happy.
In today's world, many children and adults must avoid gluten and other ingredients commonly found on restaurant menus. At Blackmoor Bar and Kitchen, we clearly mark all gluten-free menu items for your convenience. If you aren't sure about the ingredients in a selection, ask your server for more information. We try to accommodate all our customers as much as possible. Explore the online menu on our website.
Catch the Latest Game at Our Kid-Friendly Restaurant Charlestown
As a kid-friendly restaurant in Charlestown, many families stop in on game day. Mom and dad enjoy adult beverages while kids take advantage of our bottomless sodas and snacks. Everyone can watch the latest football, baseball, soccer, hockey, or basketball game on several televisions throughout the dining room.
We subscribe to many of the most popular sports packages available including NFL Sunday Ticket, MLB Network, and four ESPN packages. Our televisions feature all local sports and US National Team games. On game days, you can feel the atmosphere in our casual bar and kitchen change. Everyone gets into the excitement of major sporting events. Our kid-friendly restaurant in Charleston gives parents the ability to enjoy a fun game day bar environment with the entire family.

Tips for Keeping Kids Busy at a Kid-Friendly Restaurant Charlestown
While a place may advertise itself as a kid-friendly restaurant in Charlestown, it may not always provide the same level of kid-friendly service. At Blackmoor Bar and Kitchen, we understand traveling and eating out with kids is tough. Whether you visit our restaurant or another area eatery, consider some of the most inventive ways we've seen parents keep children occupied in restaurants:
Keep a smartphone or tablet handy. Interactive and educational games or shows can make eating out with a toddler or energetic child much more enjoyable. If your child doesn't want to watch the game or talk with the adults, consider a technological device as a way to keep him or her entertained.
Order your child's food with drinks ahead of time. Look up our menu online, call the restaurant for more information about our kid-friendly menu options, or explore our menu while you wait for a seat. Our kid-friendly restaurant in Charlestown understands that children may need to eat before the adults. We can accommodate requests to bring a child's food out early in most cases, and doing so will keep little ones busy until adults receive their meals.
Create a restaurant toy bag. For young children, consider keeping a bag of toys handy for restaurant trips. Suction cup toys for toddlers work well, while crayons and coloring books offer more entertainment than the one-sheet/crayon offerings at most kid-friendly restaurants.
Teach them about sports. Our kid-friendly restaurant in Charlestown offers a unique opportunity to teach your children about sports. If they express an interest, explore different types of sports, or look up sports trivia using our free Wi-Fi.
At the Blackmoor Bar and Kitchen, you'll feel right at home in a group of adults or a team of young soccer players. We maintain a friendly and engaging sports atmosphere where entire families feel welcome and supported. Check out our Facebook page to see our latest specials, yummy meals, and events. This is one kid-friendly restaurant in Charlestown you'll want to add to your list of must-eat places around Boston today. Leave a review.
The Best Time to Visit Our Kid-Friendly Restaurant Charlestown
With a full brunch bar menu for the adults and sodas or root beer for the kids, your entire family will love coming in for a leisurely meal on the weekends. We're open seven days a week from 11:30 a.m. to 1 a.m. on weekdays and 10 a.m. to 1 a.m. on weekends. Stop by for brunch on weekends or lunches, cocktails, and dinners any day of the week. Our kid-friendly restaurant in Charlestown offers an extensive brunch selection featuring traditional breakfasts and modern takes on the classics.
For adults only, we pride ourselves on offering some of the best beers and mixed drinks in the area. With 34 rotating draught beers as well as wines, spirits, and handcrafted cocktails, try something new during every visit. Ask your server for recommendations about our latest selections or what would pair well with your meal.
The next time you need a family-friendly place to enjoy a meal, keep the Blackmoor Bar and Kitchen in mind. Our new restaurant delivers high-quality food and beverages in a casual neighborhood environment. To learn more about our kid-friendly restaurant, Charlestown families can reach the Blackmoor Bar and Kitchen at (617) 580-8166.