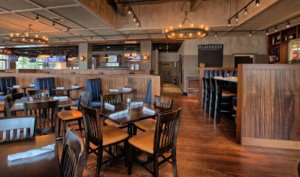 For the best brunch, Charlestown locals head out to the Blackmoor Bar and Kitchen on Saturdays and Sundays. From 10 a.m. until 2 p.m. every weekend, our team serves up classic libations including Bloody Marys and mimosas as well as a mouthwatering mix of breakfast and lunch fare. Kick off your day right when you bring your friends and loved ones down to our casual neighborhood restaurant for a great time and the latest ballgames. Of all the places you could each brunch, the best brunch in Charlestown is at Blackmoor Bar and Kitchen. Make plans to visit us this weekend.
Great Foods Define the Best Brunch Charlestown
Brunch foods offer a great mix of savory lunch fare and egg/bacon breakfast staples. At Blackmoor Bar and Kitchen, our extensive and reasonably priced brunch menu features a blend of items designed to satisfy any palate. From rich and savory to sweet and decadent, you'll quickly see why our restaurant serves the best brunch in Charlestown.
If you're still not convinced, look at a sampling of our brunch specialties:
Appetizers. Whet your appetite with a leisurely basket of nibbles such as our ever-popular beignet basket with sugar, cinnamon, and/or honey. House made pretzels offer the perfect salty and buttery bite.
Soups and salads. Start your day off with a classic soup and salad blend. Our Caesar salad and Chef's French onion soup offer classic comfort while our Greek Chopped Salad brings your taste buds to the Mediterranean.
Omelets, Bennies, and Breakfasts. The best brunch in Charlestown wouldn't be complete without great breakfast foods. Choose from an assortment of fresh omelet ingredients, classic and modern Eggs Benedict compilations, or simple and hearty breakfasts including meats, eggs, biscuits, and yogurts.
Burgers and sandwiches. Blend breakfast and lunch with our burgers and sandwiches featuring fried eggs, several different types of bacon, premium meats, and artisan cheeses on biscuits and English muffins. Feel free to order lunch classics including our lobster roll, Dirty Bird chicken sandwich. Each brunch sandwich blends the right breakfast and lunch flavors to build the best brunch in Charlestown.
We can't wait for brunch to start every Saturday and Sunday, and we hope you'll join us the next time you're in the area. Whether you want to eat as soon as we open or take a walk along Freedom Trail before stopping in, we'll save you a spot at our bar or in our dining room. Remember, the best brunch in Charlestown is only a hop, skip, and a jump away from the area's most popular event venue, TD Garden. Come in to start your event day right or to watch the latest game on our high definition televisions. Explore our brunch menu.
Delicious Drinks at the Best Brunch Charlestown
At Blackmoor Bar and Kitchen, we couldn't claim the best brunch in Charlestown if we didn't offer a great drink lineup in addition to our delectable food menu. Start the day off right with our drink selection designed specifically for a midmorning or early afternoon meal including our:
Bloody Marys. From spicy to clean and neat, we offer several versions of a Bloody Mary featuring vodka, gin, or tequila. Try a new one every time you come in and discover your favorite twist on an old classic.
Sparklers. As part of the best brunch in Charlestown, order a mimosa, peach Bellini, or a Champagne Julep. These light and refreshing beverages offer the right balance of bubbles and handcrafted flavors.
Coffees. Kick your coffee up a notch with one of our alcohol infused specialties including the classic Irish Coffee, a Black and Gold, or a Blizzard. Blended with high quality coffees and just the right amount of liquor and liqueurs, these warm and cold concoctions will wake you up after a long night.
As only a few of the drinks offered in our endless assortment of brunch drinks, we look forward to helping you choose the right mix of flavors and textures for your brunch meal. Ask your server about drinks to accompany the best brunch in Charlestown, and we'll offer a personalized recommendation for pairing a drink with an omelet, burger, or salad. We also offer an assortment of kid-friendly non-alcoholic beverages for the entire family. Try our draft root beer or a soda if you're not interested in an alcoholic libation. Check out our brunch drinks.
Best Brunch Charlestown for Every Weekend
At our casual neighborhood establishment, we love kicking back on Saturdays and Sundays with the brunch crowd. Come as you are and stay as long as you like. Watch travelers along the Zakim Bridge, share stories with our regulars, and enjoy the superior service our bar and service staff provide on a daily basis. The best brunch in Charlestown is only a short drive away from your favorite area attractions.
Interested in a private event? Blackmoor Bar and Kitchen offers a private event space designed for gatherings throughout the week. With a private room and television for sports events, business meetings, and more, schedule the best brunch in Charlestown for your next hosted event. Ask our team about setting up a Bloody Mary or mimosa bar. With full catering and a great atmosphere, consider the restaurant your first choice in casual, upscale event venues.
Come to Blackmoor Bar and Kitchen for the Best Brunch Charlestown
If you come and sit at the bar, check out our USB outlets just underneath. Watch the game, drink one of our 34 rotating draught beers, and charge your phone so you won't miss that important call. Whether you're heading out for brunch with your significant other or stopping by on your way into town, our team offers a complete weekend brunch experience you won't want to miss. We're a new establishment, but we'll quickly become your favorite spot for brunch, lunch, and dinner.
Find us on social media or subscribe to our newsletter to learn about the latest offerings and deals from the restaurant. If you liked what we had to offer, please leave us a review! The next time you're searching for a low-key bar for relaxing on the weekends, keep the Blackmoor Bar and Kitchen in mind. To reserve a spot for the best brunch, Charlestown diners can contact the restaurant team at (617) 580-8166.