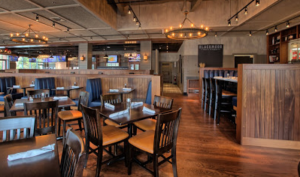 Blackmoor Bar and Kitchen offers the best brunch North End diners enjoy every Saturday and Sunday from 10 a.m. to 2 p.m. Grab a Bloody Mary, a brunch sandwich, and a seat at our bar or in the dining room for an exceptional brunch experience. From the service to the care in each handcrafted drink and food order, you'll feel right at home in our casual neighborhood establishment. At Blackmoor Bar and Kitchen, we want to be more than a place for the best brunch in North End. We hope you'll consider us one of your go-to bars in the area.
Best Brunch North End with Casual Flair
Brunch sets the tone for the entire day on the weekends. Chain restaurant or quick-service establishments never deliver the level of care and comfort a local bar and restaurant does. Diners come to the Blackmoor Bar and Kitchen because we offer more than a sports bar environment. Our casual upscale eatery offers several large-screen televisions, a large and well-stocked bar, and comfortable seating for the entire family. For the best brunch in North End, remember the Blackmoor Bar and Kitchen.
We show all the major local and national sports games and subscribe to the most-watched sports channels on television today. With a rotating selection of 34 hand-selected draught beers, high-quality bottled selections, draught wine, and handcrafted cocktails, you'll want to come back after brunch to watch games in the evening and enjoy our different menu specialties.
The best brunch in North End happens to sit near some of the most popular attractions in the area. Travel along the Freedom Trail, book a ticket for a show or game at TD Garden, or take advantage of the areas many historic landmarks. Within walking distance of many destinations, consider our establishment your first stop in a fun-filled day. Several areas around the restaurant offer free parking, and we validate for parking at the Constitution Marina after 5 p.m. on weekdays and all day on Saturdays and Sundays. Like us on Facebook!
Explore the Menu for the Best Brunch North End
In your search for the best brunch in North End, add Blackmoor Bar and Kitchen to your list of must-visit places. We offer our extensive brunch menu only between the hours of 10 a.m. and 2 p.m. on weekends. Trust us; you won't want to miss our chef-inspired twists on old classics such as Eggs Benedict, omelets, and burgers.
When you stop in for the best brunch in North End, you can enjoy:
Exceptional drink choices. Try classic or custom-blended Bloody Marys, mimosas, Bellinis, alcohol-infused coffee drinks, shandys, spiked teas, and more. Every category of drinks features handcrafted beverages you won't find anywhere else. We also serve a full selection of traditional cocktails, beers, and wines in addition to our brunch specialties.
Perfect bite appetizers. Nibble on something while you wait for your meal. Our brunch appetizers offer shareable portions of some of our favorite menu staples, including beignet baskets, house-crafted pretzels, lamb poutine, Bangkok wings, and more. Try our breakfast quesadilla for a Southwest twist on brunch or our Nashville hot tenders for some southern comfort. You can't go wrong with appetizer choices during the best brunch North End has to offer.
Egg-cellent choices. For brunch, add an egg or two to any dish you choose. Many of our brunch selections come with eggs prepared in many different ways. Choose from hearty omelets featuring mixtures of veggies and meats. Try a sandwich or burger with a fried egg, smoked bacon, and more.
Up your Eggs Benedict game with our unique twists on a brunch classic. At your favorite place for the best brunch in North End, the Lobster Benedict features fresh Maine lobster, tomatoes, and avocado while the Florentine Benedict is green with spinach and tomatoes. Brunch skillets blend eggs with vegetables, cheeses, and meats for a delectable and international eating experience.
Other choices. Add chicken and waffles, lobster and bacon mac and cheese, and a full English breakfast to the menu, and you'll find exactly what you're craving every Saturday and Sunday at Blackmoor Bar and Kitchen. Come for the food and stay for the drinks and atmosphere. You won't want to miss out on our seasonal specials.
Whether you're in the mood for something healthy, sweet, or hearty, our brunch menu offers flavors for every palate. Spice it up, give it a little salt, or choose something creamy and satisfying. If you can't make a choice, you're not alone. Many of our customers sip on a drink for a few minutes and order a basket of beignets or pretzels while they decide on an order for the best brunch in North End. Explore our brunch menu to find what you want ahead of time. While you can make a reservation, we do not require them for brunch.
Choosing Your Go-To Spot for the Best Brunch North End
Whether you're walking along Freedom Trail, headed to an event, or just want some great food on Saturday or Sunday, remember Blackmoor Bar and Kitchen. As a new restaurant, we look forward to sharing our approach to great food, handcrafted drinks, and a cozy atmosphere with anyone who stops by. Our kid-friendly establishment offers the inviting neighborhood experience you've always wanted. You won't find another restaurant to compete the best brunch in North End. If you've had a meal with us before, leave us a review.
If you're interested in reserving our space for brunch happenings or nighttime events, let us know. Our private event space offers a great view of the Zakim Bridge, a private television, and plenty of space for small to large gatherings. We cater and provide event spaces for business meetings, engagement parties, anniversaries, holiday parties, and other special events. Our event managers look forward to helping you nail down all of the details for a memorable event any time of year.
When you wake up on Saturday morning, don't reach for the cereal. Come to Blackmoor Bar and Kitchen for some artfully poured drinks and delectable food. To make a reservation or ask a question about the best brunch, North End foodies can contact the restaurant at (617) 580-8166.