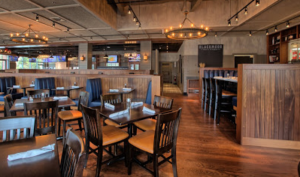 Take advantage of the best parking near TD Garden when you visit Blackmoor Bar and Kitchen for drinks and food. Located at the corner of Chelsea Street and North Washington Street, our restaurant offers a great view of the Zakim Bridge and sits right along the Freedom Trail. Whether you're headed to an event at TD Garden right down the road or waiting out the traffic after work, you'll enjoy our extensive bar selection and eclectic tavern food menu. Park, walk over, and enjoy the atmosphere. We look forward to seeing you, and create a review for us if you have visited before!
Blackmoor Bar and Kitchen Gives You the Best Parking Near TD Garden
At Blackmoor Bar and Kitchen, we're close to some of the best parking near TD Garden. Instead of paying around $45 to park at the North Station Garage, take advantage of the parking around our bar and kitchen. All parking in Charlestown is free after 6 p.m., and some places offer free parking every day. We do validate for Constitution Marina parking after 5 p.m. on weekdays and all day on Saturday and Sunday. Many of our customers take advantage of this perk when they schedule TD Garden event tickets.
During heavy traffic, you can walk to the event center from our restaurant faster than you could drive the distance. The distance from some of the best parking near TD Garden and the arena is less than 2 miles. When you come in for a pre-event drink or bite to eat, ask our staff members for tips about parking and traveling to the arena. Plan your trip with our parking guide.
The Best Parking Near TD Garden Any Time of Day
When you choose the best parking near TD Garden around Blackmoor Bar and Kitchen, you can take advantage of the unique food and beverage selections we offer at our neighborhood establishment. Whether you visit before or after an event, check out our:
Selection of 34 rotating draught beers. Choose from local craft beers and international favorites throughout the year. We also serve an elite selection of bottled beers and cask ales you won't want to miss.
History-themed cocktails. Enjoy a selection of artisanal cocktails handcrafted for our restaurant. With names such as the Patriot, Freedom, and 1776, our cocktails will put you in the mood for a history tour or a ballgame at TD Garden. With the best parking near TD Garden, you won't need to worry about driving between the restaurant and the arena before your event.
Classic and modern pub fare. Our menu includes a selection of tavern staples and innovative concepts. From our fresh Maine lobster roll to our Nashville hot tenders, you'll find a mixture of foods from around the country and the world on our menu. Ask about our kid-friendly options for a fun family experience. Check out our shareable appetizers.
The best parking near TD Garden puts you close to one of the best restaurants in the area, too. Come early, enjoy your stay in Charlestown, and leave whenever. We welcome all diners and event goers until 1 a.m. every night. For more information on the best parking near TD Garden, call Blackmoor Bar and Kitchen at (617) 580-8166.