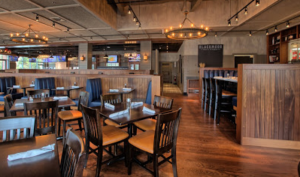 If you're searching for the Freedom Trail restaurants Boston residents love, check out Blackmoor Bar and Kitchen. Opened in 2016, our casual neighborhood bar and kitchen offers a cozy atmosphere for grabbing a drink, enjoying a meal, and watching the latest ballgames. If you're visiting town or live nearby, think of our location on Chelsea Street the next time you're looking for some great food and handcrafted beverages. We look forward to introducing you to a new way to enjoy the Freedom Trail area every day of the week.
Freedom Trail Restaurants Boston You Don't Want to Miss
Freedom Trail restaurants in Boston surround the red-lined 2.5 mile trail that weaves visitors and locals through 16 different historic locations in the area. If you've ever wanted to learn more about the American Revolution and the events that shaped modern Boston, consider a day of walking around this area attraction.
Book a tour or schedule your own walk around Charlestown and feel yourself transported in time. Near several Freedom Trail restaurants in Boston, you can explore historic churches, museums, a ship, and interspersed markers detailing the historical relevance of each site. To cap your adventure through the Freedom Trail, come to Blackmoor Bar and Kitchen. Our unique restaurant offers all-American fare (a melting pot of culture and flavors!) and history inspired handcrafted cocktails, including the 1776 featuring Vida Mezcal and Hefeweizen or the Patriot with Reyka vodka and Cocchi.
Each drink and menu item features carefully balanced and bold flavors to awaken the senses. When you come to Blackmoor Bar and Kitchen, you'll find foodie-friendly fare and drinks in a casual and relaxing atmosphere. Whether you're walking in from your tour of the trail or coming in for a cocktail after work, you'll appreciate our prompt service and friendly recommendations. Of all the Freedom Trail restaurants in Boston, no other offers this eclectic blend of casual comfort and sophistication. Read through our mixed drink menu now.

When to Stop By Favorite Freedom Trail Restaurants Boston
The restaurant is open seven days a week, and our team came up with some excuses you can use to make the trip with friends, family, or coworkers:
Cravings. A craving for a juicy burger, a rotating selection of 34 draught beers, or perfectly battered and fried fish 'n' chips will always merit a trip to one of your favorite Freedom Trail restaurants in Boston. With so many options to choose from, you may want to try something new every time you come. Many of our customers find a favorite order and stick to it. Our consistency and menu diversity make Blackmoor Bar and Kitchen the ideal compromise for any lunch or dinner.
A visit into town. If you're here for work, vacation, or to meet up with friends, remember our corner establishment. With a great view of the Zakim Bridge, USB ports under the bar for phone charging, and a private event space designed for small or large gatherings, we offer everything you need to create a memorable visit. If you're searching for Freedom Trail restaurants in Boston, put our name in the hat.
An event at TD Garden. Our restaurant is within walking distance of TD Garden. If you're headed to a concert, ballgame, or another event, consider bringing your group to Blackmoor Bar and Kitchen first. Grab a bite to eat and a drink to start the day or evening off right.
Brunch. Our expansive brunch menu featuring staples such as Eggs Benedict, mimosas, and Bloody Marys and offers the right mixture of leisurely enjoyment on Saturdays and Sundays. Bring the entire family from 10 a.m. to 2 p.m. for an unforgettable brunch experience. After your meal, take a walk around the Freedom Trail to enjoy a beautiful day and get some exercise.
Holidays and game days. As one of the Freedom Trail restaurants in Boston, Blackmoor Bar and Kitchen always looks for reasons to celebrate. From New Year's to Independence Day and beyond, we're here to make your celebrations extra special. Schedule your holiday party in our private event space and enjoy our private, large-screen television during your stay. Ask our event managers about our catering menu and open availabilities.
You will find something new at Blackmoor Bar and Kitchen every day of the week, and you don't need an excuse to enjoy our reasonably priced and delicious menu. Like us on Facebook to see the latest pictures of our menu specials and read reviews from our satisfied diners.
Freedom Trail Restaurants Boston for Lunch, Dinner, and Cocktails
If you're still on the fence about choosing among Freedom Trail restaurants in Boston, consider some of our restaurant favorites. On our menu, you'll find $10 lunch specials served daily, an exclusive brunch menu, and some Boston tavern staples, including juicy hand-packed burgers, flavorful flat-bread pizzas, and mussel pots. Try our fresh caught Maine lobster roll, Cubano sandwich, or our Blackmoor burger with Stilton cheese and grilled red onion. From Asian-inspired wings to Deep South shrimp and grits, you'll find everything you crave within our menu.
Ask your server for draught beer and wine recommendations, artisanal cocktail explanations, and pairings. As one of the best Freedom Trail restaurants in Boston, we look forward to the opportunity to give you an unforgettable tavern experience whenever you visit. If you enjoy what we have to offer, feel free to write a reviewfor us.
Get in Touch with Freedom Trail Restaurants Boston
Whether you're planning a trip or searching for a new neighborhood restaurant, add Blackmoor Bar and Kitchen to your list of places to try in Charlestown. Our chefs, bartenders, and servers truly make this place an enjoyable, inviting atmosphere for anyone who visit. We'll greet you with a smile and leave you feeling full and satisfied every day of the week. As one of the newest restaurants in the area, we look forward to earning your business now and into the future. For more information about food and drinks at Freedom Trail restaurants, Boston locals and visitors can call the Blackmoor Bar and Kitchen at (617) 580-8166.